News Hub
Exposing a hidden operating cost: coin handling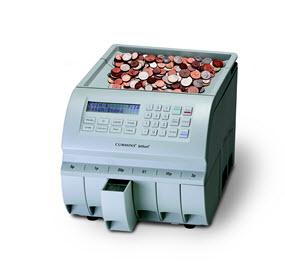 Earn and save money with the right coin-counting equipment
In the grocery business, margins are razor thin and competition is fierce. That's why enhancing the customer experience is crucial to maintaining a healthy bottom line. Superior customer service is one way to get an edge over the competition, along with taking a look at their operations to find new opportunities to increase efficiencies and reduce costs.
Coin handling is one area that contributes to a grocers cost of doing business. For example, grocers often struggle with the high cost and time commitment of managing coin within their stores including:
Ordering new coin for the day or week
Managing cash drawers
Filling coin hoppers in self-checkout lanes
Providing coin for use at the service desk
Processing coin from store-owned vending machines
There is no doubt that grocers could benefit from a more efficient and cost-effective coin counter and sorting system for managing the cashiers' cash drawers and other in-store coin-related activities to minimise costs and increase productivity.
Self-service coin counters are not only used by retailers as a revenue generator but also as an effective way of recycling coin in their own operations – saving thousands annually. For example, when retailers lease or own a machine, they have access to the redeemed coins inside and can use these coins to restock cash drawers and coin hoppers in self-checkout lanes.
The cost benefit is twofold: reduce pick-up and processing fees and eliminate the need to buy coin from banks or armoured carriers, further increasing ROI. By having access to their own coin, grocers can save up to £110.74 per week for one store, which leads to a huge £5,758.24 per store each year.
When evaluating procurement models, grocers should keep in mind that purchased and leased coin machines deliver higher ROI. The cost of the equipment and fees is typically recovered in as little as twelve months – and grocers retain a greater percentage of the profits, turning coin operations into profitability.
Avoid hidden costs in your operation.
November 29, 2018